You Bet Your Tuhkus


Attribution information
Director

Brad Neave

Writer

 •  Drew Daywalt
 •  David Schneider

Production information
Series
Season
Episode

21b

Air date

May 21, 1999

Episode guide
Previous
Next
"
Timon: Anyway, Pumbaa, I learned my lesson.
Pumbaa: That cheating's wrong?
Timon: Well, yeah, and it hurts, too. But I also learned friendships are more important than winning.
"
"You Bet Your Tuhkus" is the second segment of the twenty-first episode of Season 3 of The Lion King's Timon & Pumbaa. It aired on May 21, 1999, alongside "Space Ham".
Official synopsis
"While on a game show, Timon and Pumbaa are convinced by the host to cheat."[1]
Plot summary
Pumbaa watches a game show called You Bet Your Tuhkus, hosted by a salamander named Sal Mander. Meanwhile, Timon complains to Pumbaa about leaving his pointy sticks lying around, expressing his fear of them. After the duo watches two contestants, being an ostrich and a manatee, being disqualified for cheating, much to Pumbaa's disgust since he hates cheaters, Sal announces that Timon and Pumbaa will be his contestants for the next week. Pumbaa reveals to Timon that he sent in their names. Timon refuses to participate in the show, but changes his mind when Sal announces that they will compete for the Tuhkus Trophy, which is worth a lot of money.
When they arrive at the game show, Timon and Pumbaa meet Sal backstage. Sal tells the duo that he will give them easy questions, but, much to Pumbaa's surprise and discomfort, also gives them answer sheets, revealing that he dislikes cheaters who get caught. Sal also states that his only concern are the ratings, to which Timon agrees, but Pumbaa is still reluctant.
When the game begins, Sal asks Timon and Pumbaa two questions (one for each of them), but the two answer each question wrong. Sal reveals that if a contestant gets an answer right or wrong, good or bad things happen to their partner. While on commercial break, Pumbaa tells Timon that he is against the idea of him and Sal trying to cheat, even if it's to win money. Timon tells his friend that it's not about money, it's about the Tuhkus Trophy, which is worth a lot of money. But the warthog still refuses to cheat.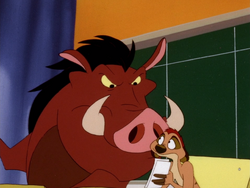 On the second round, Sal announces the Tuhkus Challenge, introducing Tuhkus Mountain, which has two heart-pounding levels of do-or-die obstacles. Timon volunteers go up the mountain while Pumbaa answers the questions. Sal tells a concerned Timon that he'll ask Pumbaa very easy questions, but gives Timon a helmet and pads just in case. While Timon climbs the waterfall of delicious food, Sal asks Pumbaa what color blueberries are. But Pumbaa, who still refuses to cheat, replies that he does not know, which causes Timon to get bitten by piranhas.
Timon makes it to level 2, which is the hilltop of horsey rides. In this level, Timon is surrounded by two horses, one who gives a happy ride and one who doesn't. In order for Timon to ride on the happy horse, Pumbaa has to answer the question right. Sal asks Pumbaa what horses eat. While Pumbaa is thinking, Timon throws his helmet at him in order for him to get the answer right, enabling the meerkat ride the happy horse and make it across.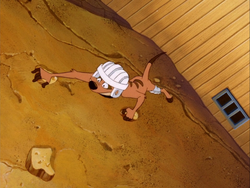 For the last challenge, Timon has to cross a gorge of pointy sticks, which is challenging for him since he hates pointy sticks. When it's time for another commercial break, Sal warns Pumbaa that if he does not cheat like they agreed, Timon will get killed by all the pointy sticks. This causes the warthog to cry and agree to cheat, but only for the safety of his best friend.
Timon sees what's going on with Sal and Pumbaa, and the enraged meerkat confronts the salamander and protests against him forcing Pumbaa to cheat. Sal then decides that they will both face the gorge of pointy sticks. When Timon and Pumbaa get sent to the top of the gorge, they apologize to each other, with Pumbaa stating that he knows how much Timon hates pointy sticks and Timon saying that he knows how much Pumbaa hates cheating.
When Sal resumes the game, he threatens Timon and Pumbaa that they will fall off the flaming gorge of pointy sticks if they don't get the right answer to the question he's about to ask. He asks the duo the little-known name of Beethoven's last concerto in D-minor was. Pumbaa replies that there is no way that they could possibly know that, which, much to Sal's surprise, turns out to be the correct answer. Timon and Pumbaa rejoice over winning the game and grab the Tuhkus Trophy. However, Timon admits to Pumbaa that they didn't win the trophy fair and square. When a vengeful Sal prepares to kill Timon and Pumbaa with a pointy stick, the meerkat throws the trophy to Sal, who then falls and lands on the pointy sticks. Timon then tells Pumbaa that he not only learned that cheating is wrong and hurtful, but friendship is more important than winning.
Cast
Starring
Guest Starring
Appearances
Characters

Species

Locations

Organizations and Titles
Media
References