| | | |
| --- | --- | --- |
| " | Besides, this is my kingdom. If I don't fight for it, who will? | " |




Hi! I'm Peony, an administrator on this wiki. If you have any questions, comments, or just want to talk about The Lion King, feel free to contact me on my message wall. Hakuna Matata!
Biography
Hujambo, and welcome to my little corner of FANDOM! I am a huge fan of The Lion King—it's been my favorite movie ever since I was little.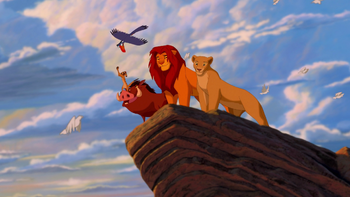 I discovered this wiki waaaay back around 2011, but for some reason it didn't occur to me then to join. I certainly never would've guessed that I'd be an admin here someday! Life is weird. xD
Eventually, I wised up and joined this awesome community on March 12, 2016. I was granted administrator status on December 19 of that same year. Ever since then, I've been working hard to contribute and do everything I can to help this wiki be the best it can be.
But enough about me. Thank you for being a member of this community! :)
Avatar
Glowy Simba. Cuz.
Polls
How much of my profile did you just read?
Which landscape is your favorite?
Which member of the Lion Guard is your favorite?
Which scene from TLK is your favorite?
How many times have you seen The Lion King on Broadway?
Which TLK broadway-unique song is your favorite?
What do you think about Makini?
The Lion King II or The Lion King 2?
How many times did you watch the trailer for the Lion King remake in the 24 hours following its release?
How many times did you see The Lion King remake in theaters?
Art Gallery • To-Do List • Vault
Community content is available under
CC-BY-SA
unless otherwise noted.