Welcome to The Lion King Wiki!
Welcome to The Lion King Wiki, a collaborative database for everything related to the Lion King franchise: films, television series, books, comics, and more. Anyone can edit our site as long as they work in abidance with our rules. Together, we work to create the best comprehensive encyclopedia for the Lion King franchise.
Featured Article
A Day Without Pumbaa is a short story inspired by The Lion King. It was published by Disney Press on October 1, 2013, as part of 5-Minute Snuggle Stories. Timon was teaching Simba how to catch grubs when they were interrupted by Pumbaa, who swung in on a vine and accidentally knocked into Timon. Though Pumbaa apologized, Timon criticized Pumbaa's clumsiness and declared that he could not catch a grub if he tried. Pumbaa attempted to prove Timon wrong by catching a nearby grub, only to fall in a puddle and splatter his friends with mud. Fed up, Timon exclaimed that he had had enough of Pumbaa's antics. A saddened Pumbaa asked Simba if he agreed with Timon, and Simba admitted that Pumbaa was quite disastrous. This prompted Pumbaa to leave, as he believed that his friends were better off without him.
Participate
This community needs your help to grow! All users are invited to contribute to our articles and engage with fellow fans on the topic. For further help:
Random Image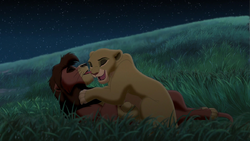 Random Quote
| | | |
| --- | --- | --- |
| " | Hey! Why don't you pick on somebody your own size? | " |