Wiki Targeted (Entertainment)
Play Sound
Sumu
Physical information
Gender

Male

Species
Skin color

Black and gray

Eye color

Red

Distinguishing features

 •  Barbed tail
 •  Large pincers

Biographical information
Also known as

Scorpion

Status

Living

Residence
Affiliations
Relationship information
Enemies
"
Scar: You know what to do, Sumu.
Sumu: And do it I will.
"
Sumu is a male scorpion. He is a member of Scar's army.
Biography
Sumu is recruited by Scar to sting Simba as part of the latter's plan to overtake the Pride Lands. When Sumu first appears in the volcano, Janja is afraid of him and knocks into Kiburi and Reirei in an effort to avoid his venom. Scar informs his allies that Sumu will take down Simba, then sends him off on his mission.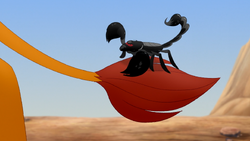 Sumu climbs Pride Rock while the Pride Landers attend the Kumbuka celebration. During the event, Sumu stings Simba, causing him to collapse. Sumu flees to the Outlands, but Ono spots him and suspects him of being the cause of Simba's ailment. The Lion Guard chases after Sumu, but when Kion pounces on him, Sumu escapes down a hole. Ono investigates from above and sees Sumu escape out the other end of the tunnel into the Outlands.
Sumu returns to the volcano, where Scar praises him for his work. Scar then commands Ushari to prepare for the Lion Guard, as he believes they will come to the volcano to fetch ash, a cure for Simba's ailment. Confused, Sumu asks why Scar would want the Lion Guard to come to the volcano, and Scar answers that they are setting a trap.
Personality and traits
Sumu is fierce and confident, willing to use his venom for even the most extreme purposes. He also shows great loyalty to Scar.
Trivia
Sumu is voiced by Ford Riley.[1]
Sumu's name means "poison, toxin" or "virus" in Swahili.[2]
References