Sisipo
Physical information
Gender

Female

Species
Skin color

Gray

Eye color

Black

Biographical information
Status

Living

Residence

 •  Pride Lands
 •  Hakuna Matata (formerly)

Affiliations
Relationship information
Family

Mimipo (sister)
Sisipo is a female hippopotamus.
Biography
Backstory
Sisipo lived during Scar's reign. Due to the poor conditions of the Pride Lands, she left to live in the jungle with her sister, Mimipo.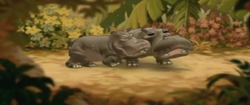 When Timon and Pumbaa come looking for Mimipo, they overhear her crying and come rushing to her rescue. Once there, they try to comfort her by telling her that she can return to the Pride Lands and perhaps even receive a personal welcome from King Simba. However, Mimipo cries that she has lost her sister, Sisipo. She then explains how she'd been swimming with her sister when the current had separated them, and now she is lost in the jungle.
Timon and Pumbaa vow to help Mimipo find her sister, much to the young hippo's delight. Together, the three friends jump into the water and swim until they find Sisipo, who has a delightful reunion with her sister.
Physical appearance
Sisipo is much larger than her sister, Mimipo. She is broad and robust, with block-like features, a large head, and thick legs, and her hide is pinkish-gray. Her eyes are dark.
Community content is available under
CC-BY-SA
unless otherwise noted.