Jurassic World: Dominion Dominates Fandom Wikis - The Loop
Play Sound

Scar

Physical information
Gender

Male

Species
Hair color

Black, brown, cream, and orange

Eye color

Green

Distinguishing features

 •  Black tufts of fur on elbows
 •  Scar over left eye
 •  Slicked-back mane
 •  Tufted chin

Biographical information
Also known as

 •  Boss (by Banzai and Janja)
 •  Brother (by Mufasa)
 •  Fiery lion (by Shujaa)
 •  Tyrant (by Timon)
 •  Uncle Scar (by Simba, formerly)

Status

Deceased

Residence

 •  Outlands
 •  Pride Lands (formerly)

Affiliations

 •  Army of Scar
 •  Lion Guard (formerly)
 •  Pride Landers (formerly)
 •  Pride Lands monarchy (formerly)
 •  Scar's pride (formerly)

Titles

 •  Leader of the Army of Scar
 •  Fiercest in the Pride Lands (formerly)
 •  King of Pride Rock (formerly)
 •  Leader of the Lion Guard (formerly)
 •  Prince of Pride Rock (formerly)

Relationship information
Family

Mufasa (brother) †
Simba (nephew)
Sarabi (sister-in-law)
Kion (great-nephew)
Kiara (great-niece)
Askari (distant relative) †

Allies

Kiburi, Mzingo, Reirei, Shupavu, Ushari, Banzai (formerly), Ed (formerly), Janja (formerly), Mufasa (formerly), Sarabi (formerly), Shenzi (formerly), Simba (formerly), Zazu (formerly)

Enemies

Banzai, Beshte, Bunga, Ed, Fuli, Kion, Mufasa, Ono, Sarabi, Shenzi, Simba, strange cobra, strange lion, Zazu
"

Long live the king.
―Scar, moments before he throws Mufasa to his death

"
Scar was a male lion. He was the king of Pride Rock who succeeded Mufasa and preceded Simba. He was the younger brother of Mufasa and the uncle of Simba.
In his youth, Scar was tasked with leading the Lion Guard, a legendary group of lions who defended the Circle of Life and protected the Pride Lands. As the group's leader, Scar was gifted with a powerful roar called the Roar of the Elders. Over time, his power and position led him to believe that he should be king instead of his elder brother, Mufasa. As a result, he tried to stage a coup with the rest of his Lion Guard, but they refused to assist him in his plot. In retaliation for their insolence, Scar destroyed them with the Roar of the Elders, but this cost him its use forever, for it could only be used for good.
In the seasons after the Lion Guard's downfall, Scar continued to vie for his brother's throne. After the birth of his nephew, Simba, Scar made plans to dispose of both Mufasa and Simba. With the help of his hyena minions, he set off a wildebeest stampede that threatened Simba's life and thus lured Mufasa into danger. Mufasa managed to rescue Simba, but when he climbed up the side of the gorge toward safety, he was intercepted and thrown to his death by Scar. After Mufasa's fall, Scar convinced Simba that he was to blame for the death, after which he drove the cub into self-exile.
With Mufasa and Simba purportedly dead, Scar became the new king of Pride Rock. Under his reign, the hyenas invaded the Pride Lands, and the kingdom slowly fell into ruin. Eventually, a full-grown Simba returned to Pride Rock and challenged Scar for his throne. A battle ensued, during which Scar made one last attempt on Simba's life. However, he was promptly defeated and thrown from the summit of Pride Rock. Upon landing at the base of Pride Rock, he was surrounded by the hyenas, who turned on him and ate him alive amidst a fiery blaze.
Many seasons after Scar's defeat, Ushari and Janja summoned his spirit in a volcano in the Outlands. With Ushari's help, Scar formed an army of Outlanders to take on his great-nephew, Kion, and the Pride Lands' new Lion Guard. In an effort to send Kion down a dark path, Scar ordered Ushari to bite him and inflict him with a scar of his own. However, Scar was ultimately destroyed for good when Kion summoned the Great Lions of the Past to judge him for his past crimes. With Scar defeated, his army swiftly fell.
Meanwhile, Zira led a pride of lions who remained loyal to Scar in spite of Simba's ascent to the throne. Over the seasons, she trained her son, Kovu, to become a cold-blooded killer who was capable of assassinating and overthrowing Simba. However, when Kovu fell in love with Simba's daughter, Kiara, he rejected Scar's legacy and joined Simba's pride instead.
Biography
Early life
Scar was born to the reigning monarch of Pride Rock. He had an elder brother named Mufasa.[1]
Leading the Lion Guard
"

I expected to be praised near and far for stopping that treacherous thing, but Mufasa just nicknamed me "Scar." Then I knew he shouldn't be king.
―Scar on his history with Mufasa and the strange lion

"
As the second-born cub of the reigning monarch of Pride Rock, Scar was tasked with leading the Lion Guard and gifted with the Roar of the Elders.[2] At some point in his life, he formed a close friendship with a lioness named Zira, whom he taught all about the Roar.[3] Oftentimes, Scar would patrol on his own, without the assistance of his Lion Guard.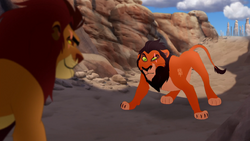 During one such solo patrol in the Outlands, Scar encountered a rogue lion, who convinced him that he should be king instead of Mufasa. With some persuasion, the rogue got Scar to team up with him so they could take over the Pride Lands with the Roar of the Elders. However, as the rogue led Scar to a nearby volcano, his cobra friend attacked Scar and gave him a venomous scar over his left eye. The rogue then revealed that he planned to blackmail Scar with the venom's antidote. However, Scar was so angry that he used the Roar of the Elders to kill the rogue and his cobra friend.
After the incident, Scar told Mufasa how he had foiled the rogue's attempted takeover of the Pride Lands. Though he expected to be praised for the deed, Mufasa instead patted him on the head and nicknamed him "Scar." Furious at Mufasa for making a mockery of him, Scar decided to do whatever it took to overthrow his brother and claim the title of king for himself.[4]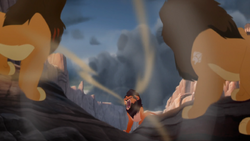 Over time, Scar let his power and ambitions get to his head.[2] One day, he met with his Lion Guard near a rock on the border of the Outlands and asked them to aid him in his plot to kill Mufasa. His Lion Guard refused, and so Scar used the Roar of the Elders to kill them in retaliation. In the aftermath of the attack, Scar lost his powers forever, as the Roar of the Elders was not meant to be used for evil. This left him shocked and horrified.
After losing his powers, Scar remained bitterly jealous of Mufasa and continued to devise schemes to take over the Pride Lands.[4] In time, he found new allies in the form of a clan of hyenas who lived in the Elephant Graveyard.[1]
Simba's presentation
"

Well, I was first in line...until the little hairball was born.
―Scar on Simba

"
Scar's hopes to become king were seemingly crushed when his nephew, Simba, was born. Scar deliberately missed the presentation ceremony out of jealousy and resentment. Afterward, he toyed with a mouse in a cave and lamented how his life was unfair because he would never be king. He started to eat the mouse, only for Zazu to arrive and announce that Mufasa was on his way, which scared the mouse off. Zazu merely taunted Scar for losing his dinner and berated him for his absence at Simba's presentation. Incited, Scar caught Zazu in his mouth and started to eat him.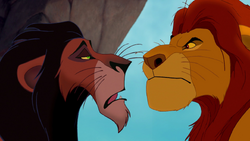 Just then, Mufasa arrived and ordered Scar to release Zazu. The younger lion did so, then commented sarcastically that Mufasa was "descending from on high to mingle with the commoners." Instead of rising to the bait, Mufasa remarked that Scar had missed Simba's presentation, and Scar feigned shock, claiming that he had forgotten all about it. Zazu retorted that Scar should have been "first in line" at the ceremony, to which Scar pointed out that he had been first in line until Simba had been born. Mufasa reminded Scar that Simba was the future king, but Scar simply made a sarcastic comment and turned his back on his brother.
Mufasa ordered Scar to not turn his back on him, but Scar replied that it was Mufasa who should not turn his back on him. Enraged, Mufasa lunged into Scar's path and demanded to know if Scar was challenging him. Scar denied Mufasa's accusation and explained that he did not have enough physical strength to challenge his brother. He then sauntered off into the savanna. As Scar walked away, Mufasa lamented their estranged relationship, and Zazu joked that Mufasa should make Scar into a throw rug.[1]
Assassination attempt on Simba
"

An elephant graveyard is no place for a young prince. Oops!
―Scar lets slip to Simba that there is an elephant graveyard on the border of the Pride Lands

"
Seasons later, when Simba was a young cub, he approached Scar and bragged that he would be the king of the Pride Lands someday. Scar remarked sardonically that he could not leap for joy because he had a bad back. He then collapsed on the ground. An oblivious Simba asked Scar what he would be once Simba became the king, and Scar answered that he would be a "monkey's uncle."
Scar quickly changed the subject by asking Simba if his father had showed him the kingdom, including the rise at the northern border. This deflated Simba, who confessed that Mufasa had forbid him from going there. Scar exclaimed that Mufasa was right, for that area was dangerous and traversed only by the bravest of lions. Simba proclaimed that he was brave and asked what was out there, but Scar refused to divulge any more information. However, he eventually let slip that the area was an elephant graveyard. Simba reacted with excitement and wonder, but Scar promptly swore him to secrecy. The cub dashed off, and Scar turned away with a sinister smile.
Later, after Mufasa rescued Simba from the hyenas at the Elephant Graveyard, Scar stood on a high ledge and watched them leave the area.[1]
Assassination of Mufasa
"
Banzai: Yeah. What are we supposed to do, kill Mufasa?
Scar: Precisely.

—Scar plots with the hyenas

"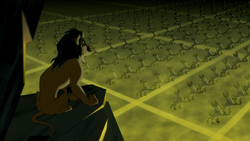 After his failed assassination attempt, Scar journeyed to the Elephant Graveyard and met up with his hyena friends, Shenzi, Banzai, and Ed. Though the hyenas were happy to see him, Scar only reluctantly threw them food and criticized them for their failure to kill Simba and his friend, Nala. An indignant Banzai asked if they were expected to kill Mufasa as well, and Scar replied, "Precisely." He then plotted with his minions to assassinate both Mufasa and Simba so that he could become the king of the Pride Lands; in return, he promised to give the hyenas ample food.
The next day, Scar brought Simba to the gorge under the pretense that Mufasa had a surprise for him. When Simba insisted that he should go with Scar to fetch Mufasa, Scar reminded the cub that he might get in trouble again like he had with the hyenas. He then advised Simba to work on his roar instead. Just before Scar left, Simba asked if he would like the surprise, and Scar replied that the surprise was "to die for." He then left Simba behind and gave the hyenas the signal to start a stampede of wildebeests in the gorge.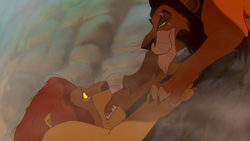 After the hyenas triggered the stampede, Scar fetched Mufasa and Zazu. Together, the three raced to the gorge, where Zazu pinpointed Simba clinging to a tree in the midst of the stampede. Mufasa immediately jumped into the fray to rescue his son, while Scar knocked a frantic Zazu unconscious. Scar then began to monitor Mufasa's progress and waited for him at the top of the gorge. Eventually, after Mufasa deposited Simba to safety, he climbed up the side of the gorge and begged Scar for help. However, Scar dug his claws into his brother's paws, smiled menacingly, and said, "Long live the king." He then flung Mufasa to his death.
Once the wildebeests had cleared out, Simba found his father's dead body and broke down in grief. Before long, Scar approached and blamed Simba for Mufasa's death. The cub asked what he should do, and Scar told him to run away and never return. Simba did as he had been told, but once he was out of sight, Scar sent his hyena minions to finish the cub off. Despite the trio's best efforts, they were unable to kill Simba, and so they instead left him for dead and reported to Scar that their mission had been a success.[1]
Reign over the Pride Lands
"

So it is with a heavy heart that I assume the throne. Yet, out of the ashes of this tragedy, we shall rise to greet the dawning of a new era...in which lion and hyena come together in a great and glorious future!
―Scar, during his coronation

"
That night, Scar delivered a eulogy to the grief-stricken pride. At the end of his speech, he welcomed the hyenas into the Pride Lands, then began to ascend Pride Rock to become king. Under Scar's kingship, the Pride Lands suffered a famine, as the herds moved on and left the pride with nothing to eat.[1] Despite Scar's unpopularity among the pride, he gained a small entourage of followers and developed a particularly close relationship with a lioness named Zira. At some point, Zira gave birth to a male cub named Kovu, whom Scar chose to be his heir.[5]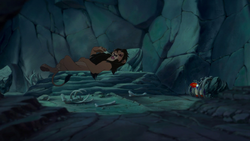 One day, Scar lounged in his throne and picked his teeth with a bone while Zazu sang to him from a bone cage. In the midst of the songs, Zazu complained that he had never had to perform for Mufasa, which triggered Scar. The lion yelled at Zazu that it was against the law to speak Mufasa's name in his presence, and Zazu hastily explained that he had simply been comparing the two kings' managerial approaches.
Just then, Shenzi, Banzai, and Ed entered the den and complained that there was no food in the Pride Lands. Scar blamed the lionesses, but Banzai clarified that they were refusing to hunt. Scar offered up Zazu as food, which merely embittered the hyenas and made them mutter about how much better Mufasa's reign had been. This enraged Scar, who ordered the hyenas to leave his den.[1]
Battle of Pride Rock
"

However, there is one little problem. You see them? They think I'm king.
―Scar on the hyenas

"
One day, Scar called Sarabi to Pride Rock and demanded to know why the lionesses were not hunting. Sarabi explained that the herds had moved on, but Scar insisted that the lionesses were not looking hard enough. However, Sarabi pressed her case and told Scar that the pride had to leave the kingdom in order to survive. Even so, Scar refused to leave and insisted that he could do whatever he wanted, as he was the king. Sarabi started to disfavorably compare Scar to Mufasa, which made Scar strike her across the face in fury.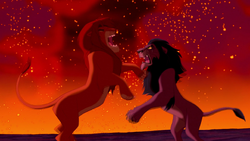 Just then, a full-grown Simba emerged, and Scar mistook him for Mufasa. Before long, Scar realized Simba's identity and glared up at the hyenas for their failure to kill him. After tending to Sarabi, Simba advanced on Scar and demanded that he abdicate the throne, but Scar insisted that the hyenas did not recognize Simba as the rightful king. At that moment, Nala arrived with the rest of the pride and asserted that the lionesses supported Simba's claim to the throne.
Instead of defending his kingship, Scar coerced Simba into confessing that he was responsible for Mufasa's death. He then backed Simba to the edge of Pride Rock and taunted him for being in trouble again but not having Mufasa there to save him. Scar managed to pin Simba on the edge of the promontory, after which he confessed that he, in fact, had killed Mufasa. Fueled by rage, Simba leaped back onto Pride Rock and pinned Scar to the ground. Though Scar tried to wriggle out of a confession, Simba choked him and forced him to tell the entire pride that he had murdered Mufasa.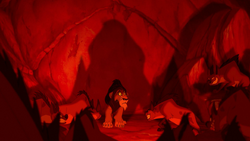 At Scar's confession, the lionesses attacked the hyenas. As a full-on battle broke out between the two factions, Scar tried to slink away, but Simba spotted him and took chase. Scar fled up Pride Rock, only to get trapped on the peak. Simba began to advance on Scar, who pleaded for his life and blamed the hyenas for the entire situation. Despite Scar's excuses, Simba did not believe him and reminded Scar that everything he had ever told him was a lie. Scar wondered if Simba would kill his own uncle, but Simba claimed that he would not, for he was better than Scar. He then told Scar to run away and never return.
At first, Scar seemed to acquiesce to Simba's request. However, as he passed Simba, he flung embers into the young lion's eyes, then attacked. The two engaged in a brief fight, which ended with Simba flipping Scar off Pride Rock. Scar landed amongst the hyenas, whom he greeted as his friends. To his horror, the hyenas informed him that they had overheard his betrayal, after which they began to advance on him with sinister grins. Scar began to hyperventilate and beg for his life, but the hyenas ignored his pleas and ate him alive amidst the flames of Pride Rock.[1]
Legacy and post-mortem
Rise of the Outsiders
"

These lands belong to Scar!
―Zira

"
After Scar's demise, Simba became the new king of the Pride Lands. Though most of the lionesses accepted his reign, Zira insisted that her son, Kovu, had been Scar's hand-picked heir. Simba reminded Zira that Scar had never been the true king, which enraged her and caused her to attack him. She was swiftly defeated, then banished to the Outlands alongside her family and those lionesses who would not submit to Simba's rule.[3]
When Kovu was a cub, Zira introduced him to Simba and proclaimed that Scar had personally chosen the cub to follow in his pawprints and become king. Simba ordered the Outsiders to leave the Pride Lands, and Zira complied. Upon returning to the Outlands, she devised a plot to use Kovu to infiltrate Simba's pride, assassinate Simba, and usurp the throne of Pride Rock.[5]
Kion's struggles
"

I shouldn't use it again. I... I'm worried that I might turn into Scar.
―Kion, after he nearly hurts Nala with the Roar of the Elders

"
Meanwhile, Simba's son, Kion, learned that he had the Roar of the Elders. Rafiki took him to the Lair of the Lion Guard, where he told him the story of how Scar had lost his powers. Later, when Mzingo informed Janja that Kion had become the leader of the Lion Guard, the hyena wondered how that could be possible, as Scar had eliminated the last Lion Guard.[2]
One day, Kion encountered Zira's sons, Kovu and Nuka, who introduced him to Zira. The lioness taught Kion how to use the Roar of the Elders to summon rain and explained that Scar had taught her all about the Roar. She then offered to teach Kion what she knew. However, when the two disagreed over whether lions should tyrannize other creatures, they became enemies. Zira tried to convince Kion that he could not use the Roar of the Elders against other lions, else he would lose it like Scar had, but Kion realized that Scar had lost the Roar because he had used it for evil. Kion then successfully used the Roar to blow the Outsiders into the termite mounds.[3]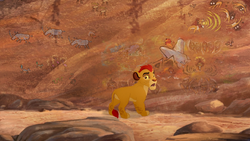 Throughout Kion's tenure as the leader of the Lion Guard, he was burdened by Scar's legacy, as he frequently worried that he would lose himself to evil and ambition as Scar had. After a particularly grueling encounter in which he nearly hurt his mother, Nala, with the Roar of the Elders, Kion took to looking at Rafiki's paintings of Scar. Bunga commented that Scar was the worst lion ever and that it was a good thing that Kion possessed the Roar of the Elders instead of Scar. Kion only reluctantly agreed.
Later, Kion sought advice from the spirit of his grandfather, Mufasa. He explained what had happened when he had used the Roar in anger and confessed his fear that he would turn out like Scar. In answer, Mufasa pointed out that Scar had only ever cared about himself. He then asked Kion why he had used the Roar, and Kion explained that his mother had been in danger. Mufasa reminded Kion that Scar had never cared for anyone the way that Kion cared for Nala, then encouraged him to speak with his mother about the incident.[6]
Resurrection
"

I...am...Scar!
―Scar, after he is summoned in the volcano

"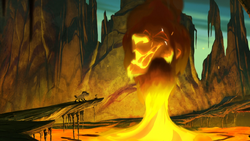 When Ushari learned that Kion could communicate with the Great Lions of the Past, he resolved to contact Scar. With the help of Janja's clan, he learned from Rafiki that ancient evil lions could be communed with through the combined powers of the bakora staff and the Roar of the Elders.
Ushari and Janja decided to use what they had learned to summon Scar. They stole a bakora staff from Rafiki's apprentice, Makini, since she was too inexperienced to be a threat. They also kidnapped Kion's sister, Kiara, and held her hostage in the volcano to lure in Kion. While the rest of the Lion Guard rescued Kiara, Janja tricked Kion into using the Roar of the Elders out of anger, which caused the volcano to erupt. Janja then threw Makini's bakora staff into the volcano. As a result, the spirit of Scar emerged from the lava and introduced himself to Ushari and Janja.[7]
Army of Scar
Recruiting Kiburi's float
"

Don't worry, Kiburi. We're all friends here. I have plans for you and your crocodiles. Big plans indeed!
―Scar meets Kiburi

"
When Makuu left with the Lion Guard to speak to Simba about new sleeping arrangements, Kiburi seized control of the float and began forcibly taking over water holes all over the Pride Lands. From afar, Shupavu the skink watched in fascination and resolved to speak to Scar and Ushari about the situation. After she delivered her report, Scar praised Ushari for his spies' work and ordered the skinks to continue monitoring the situation.
Later, Kiburi called for a mashindano with Makuu. Shupavu reported the proceedings to Scar, who questioned Ushari on whether the royal family would attend the event. Ushari confirmed that Simba would likely be present, so Scar planned to use the mashindano as a cover for assassinating Simba. Scar ordered Ushari to convince Kiburi that he could become the ruler of the Pride Lands, and Ushari agreed to the plan. However, the plot was ultimately thwarted by the Lion Guard, and Kiburi and his followers were banished to the Outlands for trying to murder Simba.
As Kiburi and his followers left the Pride Lands, Kiburi cornered Ushari and blamed him for his float's exile. Ushari calmly promised Kiburi that he would have much more than ever before, after which he led the crocodiles into the volcano. There, they met Scar. With all his onlookers watching, Scar revealed his plot to take over the Pride Lands and become king once more.[8]
Plot against Beshte
"

Since Beshte already seems to trust your skinks, we can use that to our advantage. I have a plan.
―Scar

"
In the volcano, Njano arrived and informed the Army of Scar that Beshte was alone in the Outlands. Though Janja tried to dismiss the situation, Scar appeared and ordered his henchmen to eliminate Beshte. When Cheezi and Chungu wondered how they might accomplish this, Scar declared that he had a plan. Janja and his clan ultimately failed to kill Beshte, and Ushari informed the hyenas that Scar wished to speak with them about their failure.[9]
Plot against Jasiri
"

We cannot have an ally of the Lion Guard here in the Outlands. Get rid of her immediately.
―Scar on Jasiri

"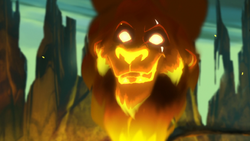 In an effort to expand his army, Scar sent Janja, Cheezi, and Chungu to recruit Reirei and her pack. On the way, Janja and his crew were thwarted by Jasiri and had to return to the volcano empty-handed. Janja blamed Jasiri for the failure, which piqued Scar's interest and made him wonder if they should add her to their collective. However, Janja protested vehemently and told Scar about Jasiri's respect for the Circle of Life as well as her friendship with the Lion Guard. Upon hearing this, Scar ordered his minions to drive Jasiri from their territory so that she was no longer a threat. As the hyenas left, Scar warned Janja to not disappoint him again. Though Janja failed to dispose of Jasiri, he lied to Scar that she had fallen into a lava pit.[10]
Recruiting Kenge
"

Ushari. Tell your friend, Kenge, to pay a visit to the Lion Guard.
―Scar

"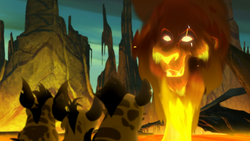 Janja and his lackeys entered the volcano, where they told Scar and Ushari that the Lion Guard had prevented them from stealing tikiti melons. Scar deduced that destroying the tikiti melon supply could dehydrate the elephants and thus offset the Circle of Life. He then ordered the hyenas to return to the fruit patch. Janja protested the idea as foolishness, since the Lion Guard was waiting for them there, but Ushari volunteered to connect them with a powerful friend of his. Satisfied, Scar ordered Ushari to find his friend, Kenge, and tell him to deal with the Lion Guard.[11]
Plot against Zazu
"

That annoying little bird is the king's royal adviser. He knows Simba's strengths, his weaknesses, who his allies are. In short, Zazu is keeper of all the secrets of the Pride Lands.
―Scar

"
Scar ordered Janja and his cronies to kidnap Zazu, as he had extensive knowledge about the Pride Lands as well as Simba. When the hyenas successfully abducted Zazu, Scar commanded them to interrogate him for important information. However, the Lion Guard foiled the plan by rescuing Zazu.[12]
Plot against Rafiki
"

That "old monkey" is dangerous. He has the ability to sense the Lions of the Past.
―Scar on Rafiki

"
Janja and Reirei came before Scar, who told them to attack Rafiki because he could sense the Great Lions of the Past. The two proceeded to argue over which faction should take on Rafiki, and Scar ended the fight by selecting Janja to eliminate Rafiki and Reirei to create a diversion elsewhere.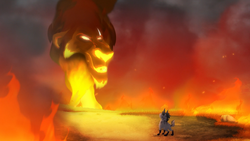 Later, the Lion Guard joined forces with Rafiki and defeated the entirety of Janja's clan. With defeat eminent, Janja tried to flee, but Scar rose up from a nearby fire and demanded that Janja face his enemies instead of run like a coward. Janja protested that they were outnumbered, but Scar pointed out that the jackals were closing in to help finish off the Lion Guard. Unbeknownst to Scar, Kion witnessed part of the two's conversation.
After the battle ended and the hyenas and jackals were defeated, Rafiki approached the Lion Guard and thanked them for their help. He then noticed Kion approaching the site of the fire, which had died down to embers and burned grass. Rafiki joined him and noticed a strange mark carved into the dirt, which he believed represented a great evil. Troubled, Rafiki decided to consult the paintings of the past about the matter.[13]
Assassination attempt on Simba
"

The Pride Landers foolishly celebrate today as the day Simba defeated me, but soon, it will be known as the day I returned and stopped Simba and the Lion Guard once and for all.
―Scar on the Kumbuka celebration

"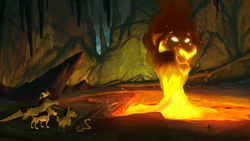 Scar plotted with his army to defeat both Simba and the Lion Guard. He explained to his followers that he planned to use Sumu the scorpion to take down Simba. He then relished the irony of turning the Kumbuka celebration, a ceremony that celebrated Simba's victory over Scar, into the day that Scar finally defeated Simba and the Lion Guard.
At Pride Rock, the Pride Landers honored the Kumbuka celebration. However, in the midst of the festivities, Sumu stung Simba's tail, then retreated as the king collapsed to the ground.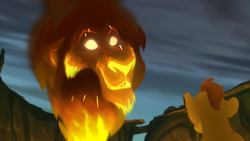 Back in the Outlands, Scar got word of Sumu's success and directed his army to intercept the Lion Guard when they entered the Outlands. The plan worked, as Janja, Kiburi, Reirei, and their respective clans managed to slow the Lion Guard's progress through the area. At last, the Lion Guard reached the inner volcano, where Makini placed a pinch of the cure, volcanic ash, in her gourd.
As the team turned to leave, Scar arose from the flames and revealed himself to Kion. He then admitted his part in the plan to kill Simba. Despite Scar's confession, Kion directed his team to leave, as he was worried about arriving too late to save his father. Scar promptly called his army forward, and they cornered the Lion Guard at the edge of the lava.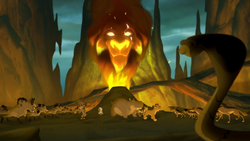 With no options left, Kion stepped forward to use the Roar of the Elders. Scar warned Kion that the Roar would only cause the volcano to erupt, but Kion informed Scar that he knew more about the Roar than Scar ever had. He then used the Roar to carefully blow away Scar's army, which allowed the Lion Guard to escape.
Scar sent Mzingo and his parliament after the Lion Guard, and the vultures nearly wrestled the gourd from Makini. However, the rest of the Lion Guard arrived in time to fend off the vultures, and Kion used the Roar to ensure that they were not delayed again. At the same time, Scar overlooked his defeated army and commented that the war had only just begun.[14]
Occupation of Kilio Valley
"

We will take over the Pride Lands piece by piece. So, in the end, there will be nothing left for the Lion Guard to defend.
―Scar

"
Scar ordered his minions to set fire to Kilio Valley, and the army successfully burned the valley to the ground. In the aftermath of the fire, the army began to bicker among themselves over who had performed the best. Suddenly, Scar arose from a still-burning ember and ordered the army to remain in Kilio Valley. He then revealed his plan to take over the Pride Lands piece by piece.[15]
Plot to block Hakuna Matata Falls
"

The Pride Lands are about to get very thirsty. And with thirst will come unrest, desperation, and chaos.
―Scar

"
Scar summoned Janja and his clan to the volcano. He stopped a brief argument between them and asserted that he had no time for "ridiculous arguments." He then ordered Janja to enter the Pride Lands with his entire clan and push rocks into the water of Hakuna Matata Falls so as to stop the water from flowing; thus, a major water supply would be cut off during the peak of the dry season. Scar reasoned that the Pride Landers would get thirsty and that the Pride Lands would plunge into unrest, desperation, and chaos as a result.
Just then, Kinyonga accidentally revealed herself to the Outlanders. Realizing that she was a spy, Scar ordered his army to stop her, but they failed to apprehend her because of the Lion Guard's interference.[16]
Hyena Resistance
"

Janja? I thought you said you took care of that hyena.
―Scar on Jasiri

"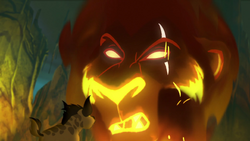 Scar ordered a three-sided attack on Mizimu Grove, with Janja leading. However, Janja's clan got blocked by a rockslide and was forced to return to the volcano. When Janja told Scar the bad news, Scar got extremely angry and roared at Janja, which knocked him over. Scar turned his rage on Kiburi, who explained that the plan had simply not proceeded successfully. Scar promptly ordered another attack, this time on Big Springs, with Kiburi leading. However, this attack was thwarted as well. Scar ordered yet another attack, with Reirei leading, but the same failure occured.
After all the failed attacks, Jasiri celebrated the Hyena Resistance's success with Kion on the border of the Outlands and the Pride Lands. Unbeknownst to the friends, Shupavu and Njano overheard the conversation and reported back to Scar. Scar questioned Janja on Jasiri's status, as Janja had previously reported that Jasiri had fallen into a lava pit. Janja fearfully confessed that the Lion Guard had come to save her. Furious at Janja's deception, Scar ordered the hyena to take care of Jasiri and her clan for good by playing their own game. He commanded Janja to announce that he and his clan would be attacking Mizimu Grove again, which would draw the Lion Guard there, then to attack Jasiri and her clan while they were alone and unsuspecting. As Janja left to do Scar's bidding, Scar coldly warned him not to fail again.[17]
Plot against Kiara and Kion
"

We're going to deliver Kion and his companions a little gift...of...fire.
―Scar

"
Kion, Bunga, Kiara, Tiifu, and Zuri travelled to the mudpots and began to play in the mud. Unbeknownst to the cubs, Shupavu and Njano were watching their antics with interest. After the skinks reported on the situation to Scar, the lion spirit ordered Mzingo to set fire to the grasslands near the cubs. Mzingo did as commanded, and Kion and his friends barely escaped the fire.[18]
Plot against Shujaa
"

So...a gorilla is tearing up the Pride Lands while trying to help the Lion Guard. That's perfect!
―Scar on Shujaa

"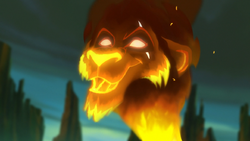 When Scar heard that Janja's clan, Reirei's pack, and Kiburi's float had been defeated again, he was furious. They explained that it had actually been a very large and strong gorilla named Shujaa who had defeated them, not the Lion Guard, and that he had been able to tear apart the landscape easily. Scar's fury quickly turned into interest and excitement, as he realized that the gorilla was destroying the Pride Lands in his attempts to help the Lion Guard. Scar then ordered his army to keep attacking so that the gorilla would cause more damage.[19]
Attack on Makuu's watering hole
"

Pride Landers working together could pose a threat to my plan.
―Scar

"
Unbeknownst to the Pride Landers, Scar decided to attack Makuu's watering hole, as the crocodiles' alliance with Kion was fraying. Per Scar's instructions, the Army of Scar besieged Makuu's float. Ono witnessed the battle and reported his findings to Kion. Together, the Lion Guard and their Pride Lander allies stormed the watering hole and fought off the Army of Scar.[20]
Plot against Dhahabu
"

With the queen gone, there will be no treaty. And no extra water for the Pride Lands.
―Scar on Dhahabu

"
Shupavu and Njano informed Scar of Dhahabu's visit to the Pride Lands. Scar schemed to end the treaty between the Back Lands and the Pride Lands, and so sent his jackal minions after Dhahabu. However, Raha and Starehe stopped the jackals and saved their queen.[21]
Attack on Mizimu Grove
"

Ah, Simba, Simba. Always so naïve. First, we took Kilio Valley. Then we wrecked Big Springs. And now, your precious Mizimu Grove is doomed! It's only a matter of time before all of the Pride Lands is mine!
―Scar appears to Simba during Makini's mpando mpaya

"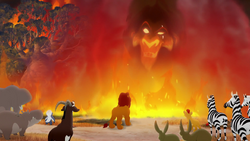 After hearing a report from the skinks, Scar ordered his army to ruin Makini's mpando mpaya. During the battle, small flames fell from the sky, which set Mizimu Grove on fire and destroyed it. Scar manifested in the flames and thus made himself known to the Pride Landers for the first time. Simba demanded to know what Scar wanted, and Scar taunted his nephew for being so naïve. He then flaunted his success in destroying Kilio Valley, Mizimu Grove, and Big Springs. With a final laugh and declaration that the Pride Lands would be his again, he disappeared.
Terrified by Scar's reappearance, the Pride Landers panicked and considered leaving the kingdom for good. However, when Kion showed them that Makini's baobab seed had survived the fire, they decided to remain and fight Scar's army.[22]
Battle for the Pride Lands
"

You have the mark of evil. Just like me, Kion. Accept your destiny. There is no other choice!
―Scar, after Ushari gives Kion a scar

"
After seasons of conflict, Scar learned of the Lion Guard's plan to lead a massive assault on the volcano. He also learned that Janja was having doubts about the Army of Scar's cause. In order to prevent a future betrayal, Scar tricked Janja into thinking that Kion had to use the Roar of the Elders inside the volcano in order to destroy him. Afterward, Scar sent Janja's clan to attack the Lion Guard in the Lair of the Lion Guard. However, in secret, he instructed his other minions to set fire to Pride Rock and thus trap Janja's clan inside the Lair to asphyxiate and die.
When Janja's clan and the Lion Guard escaped the fire, Scar manifested in the blaze and claimed that Kion and the Lion Guard had perished. However, the team soon emerged alive, to Simba's relief. In the face of the Lion Guard's survival, Scar advised Kion to lead everyone out of the Pride Lands so that he and his army could take over the kingdom, but Kion refused to surrender. Despite the young lion's bravado, Scar gloated that Kion could not defeat him but knew where to find him should he ever attempt it. Scar then disappeared into the smoke.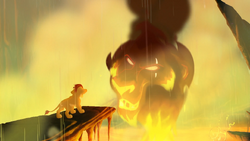 Later, Scar explained to Ushari that Kion's use of the Roar inside the volcano would actually trigger a cataclysmic eruption that would destroy the Pride Lands. He proceeded to share his history with Ushari, including how he had gotten his scar. In the hopes of tricking Kion into going down the same destructive path, Scar ordered Ushari to give Kion a scar of his own. Eventually, Scar lured the Lion Guard into the volcano, where Ushari gave Kion a scar over his eye. Scar gloated over his success and declared that he and Kion were the same.
Instead of resorting to anger and using the Roar of the Elders like Scar had expected, Kion forgave Scar and called upon the Great Lions of the Past to judge the evil spirit for his actions. Consequently, the Great Lions of the Past unleashed rain upon Scar, which began to extinguish his fire and evaporate him into nothingness. Just before being destroyed, Scar warned Kion that he would eventually see the Roar as a curse and declared that they were the same. With Scar defeated, the mark of evil from which he had arisen was destroyed, his army was disbanded, and Jasiri took his place as the de-facto ruler of the Outlands.[4]
Kion's healing journey
"

You have the mark of evil, just like me, Kion. Accept your destiny. There is no other choice!
―Scar appears as a hallucination to Kion

"
After the battle, Kion and Ono came to Rafiki to get their injuries examined. Rafiki concluded that Ushari's venom would remain inside Kion and slowly cause him to lose control of both his mind and the Roar. To prevent this, Rafiki suggested that the Lion Guard visit the Tree of Life for healing.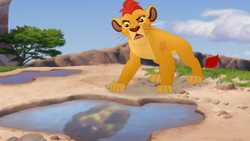 While en route to the Tree of Life, Kion started to act more and more aggressive, which made Bunga believe that Ushari's venom was corrupting him. Eventually, Kion and Fuli had a stand-off, and Bunga told Kion that he had turned evil. Horrified and regretful, the young lion ran away from his friends. While in isolation, he saw his reflection in a puddle of water and asked himself if he was turning evil. Just then, Scar's reflection appeared in the water and taunted Kion for bearing the mark of evil. Scar commented that they were the same, but Kion asserted that, though they looked the same, they would never act the same. Kion then splashed the water, which dissolved Scar's reflection.[23]
Later, after Queen Janna's death and funeral, Kion comforted her granddaughter, Rani. During their conversation, Kion confessed that he was afraid to face his grandfather because he had a scar that was identical to Scar's. Rani eventually convinced him to speak to Mufasa anyway.[24]
Zira's plot
"

I will avenge Scar. Take his place in the Pride Lands.
―Kovu

"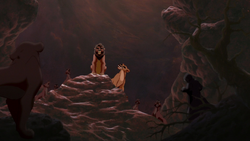 Zira raised her son, Kovu, to hate the Pride Landers, and Simba specifically, for killing Scar. She tasked her son with infiltrating Simba's pride so he could find an opportunity to assassinate Simba and usurp the throne of Pride Rock in Scar's name. The plan initially worked, as Simba believed that Kovu had saved his daughter Kiara's life.
Despite Simba's acceptance of Kovu, the king continued to struggle with the young lion's connection to Scar. One night, he had a nightmare about the stampede in which his father, Mufasa, had died. Though Simba tried to help Mufasa climb up the side of the gorge, Scar grabbed onto Simba and held him back as Mufasa slipped and fell to his death. Scar then morphed into Kovu and heaved Simba after Mufasa.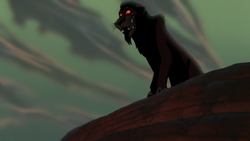 Later, after Kovu began to form a connection with Kiara, he asked if Scar was among the Great Kings of the Past. Kiara did not answer, and Kovu confessed that, though Scar was not his father, he was still a part of him. Kiara remarked that her father believed that Scar had possessed a darkness from which he had been unable to escape, and Kovu wondered if he had the same darkness in him.
Eventually, Kovu betrayed the Outsiders by refusing to kill Simba, which led to Nuka's death. Zira prayed over Nuka's body, asking Scar to watch over him, then turned her ire on Kovu and gave him a scar identical to Scar's. She accused him of having betrayed Scar, and he yelled that he wanted nothing more to do with Scar. However, Zira pointed out that he could not escape his destiny, for he had killed his own brother just as Scar had.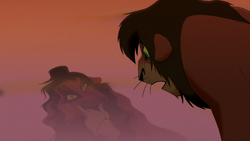 Kovu attempted to rejoin Simba's pride, but Simba exiled him from the Pride Lands. As he fled, Kovu looked into a pool of water and saw Scar's reflection in place of his own. Fearful of the vision, he fled.
Shortly after Kovu's exile, Zira led her pride into the Pride Lands and engaged in a battle with Simba's pride. Before Simba and Zira could fight, Kiara and Kovu intervened and convinced the feuding prides to reunite. Most of the Outsiders sided with Kiara and Kovu, but Zira refused and made a final attempt on Simba's life so as to avenge Scar. However, Kiara intercepted the attack, and Zira fell to her death in a flooded gorge.[5]
Physical appearance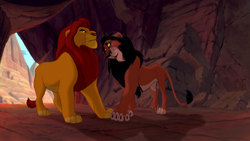 As an adolescent, Scar was somewhat undersized and skinny, with sharp features. He had orange-tinted brown fur, with a cream underbelly, cream paws, and a cream muzzle, as well as a long, sleek, slicked-back black mane and a black tail tip. He had several distinguishing features, such as a goatee, dark eye rims, and a hooked black nose. His eyes were bright green. He obtained a scar over his left eye when he was attacked by a cobra. Additionally, as the leader of the Lion Guard, he possessed a roaring lion's head marking on his left shoulder, though this marking disappeared when he lost the Roar of the Elders.[4]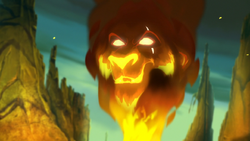 Upon reaching adulthood, Scar remained considerably small, malnourished, and lanky. He often lamented how physically weak he was in comparison to Mufasa. Even so, he was able to hold his own against a full-grown Simba and could strike Sarabi to the ground with a single hit. He retained his coloring as an adult and grew black tufts of fur on his elbows.[1]
As a spirit, Scar did not appear in the full body. Rather, only his head was visible and made completely of smoke and flames. While yellow fire formed his face, nose, mouth, and ears, black smoke formed his mane. His eyes and scar were visible as white fire.[4]
Personality and traits
"
Sarabi: If you were half the king Mufasa was, you would nev...
Scar: I am ten times the king Mufasa was!

—Scar argues with Sarabi

"
From a young age, Scar was arrogant, narcissistic, and powerhungry. He flaunted his position as the leader of the Lion Guard and enjoyed domineering others to his will, even his own Lion Guard. He let his power, both physical and executive, get to his head, to the point that he believed that he was more worthy of being king than Mufasa. Though he loved to receive attention and praise, Scar retained no loyalty to his homeland or his family, as he nearly betrayed both so he could forge an alliance with a rogue lion who wanted to overtake the Pride Lands. Additionally, Scar was quite introverted and reserved, and preferred to patrol on his own.[4]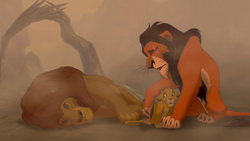 Upon reaching adulthood, Scar remained self-absorbed and negligent. He was bitterly jealous of Mufasa and Simba, and constantly lamented how they stood in the way of his ambitions. Despite this, he did not openly challenge Mufasa's authority and was subtle in his jibes against Simba. He mostly used sarcasm, derision, and a gloomy sense of humor to portray his sour moods, which frustrated Mufasa and went over a young Simba's head.
Despite his lack of physical prowess, Scar was hyperintelligent and capable of concocting complex plots against his enemies. He took advantage of the hyenas' idiocy and gluttony, and used them as his enforcers. Even when backed into a corner, Scar could typically wriggle out of a situation and shift the blame to someone else. He was charismatic, authoritative, and charming, and could use words to craft any narrative he pleased. Because he had no qualms about lying, he frequently used his incredible verbiage to manipulate, lie to, and gaslight those around him. He even took pleasure in the suffering of others, most notably when he blamed Simba for Mufasa's death, only to order the cub's death a few moments later.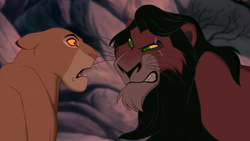 As a leader, Scar was neglectful of his duties and let his followers have free reign over the Pride Lands, which resulted in a terrible famine. Though the hyenas and the lionesses attempted to reason with him, he refused to take their suggestions, blamed them for the situation, and appealed to his own authority as a buffer against criticism. He was especially sensitive when others compared him to Mufasa.[1]
Upon being summoned as a spirit, Scar immediately set to work getting revenge on Simba. He gathered an army of incensed Outlanders and used their resentment of the Pride Landers to his advantage.[8] Though he usually led his army with a level head and a sharp mind, he sometimes lost his temper and did not tolerate failure.[17] Additionally, he was quite acute and cautious when it came to his allies' allegiances, as he attempted to kill Janja and his clan out of fear that they would betray the army. Scar was especially hateful toward Simba and Kion, and attempted to lead the latter down a dark path by giving him a scar of his own.[4] Even after his defeat, Scar continued to haunt Kion, who feared that he would become just as corrupt and evil.[23]
Appearances
Trivia
General
Scar was voiced by the following:

In The Lion King, he was voiced by Jeremy Irons.[25] Jim Cummings provided some singing vocals.[26]

Cummings also voiced Ed in The Lion King, The Lion King 1½, House of Mouse, The Lion King's Timon & Pumbaa, Kingdom Hearts II, and Simba's Mighty Adventure as well as Boudreaux, Bruce, Cheetato, Lester, the mole, Mother Gorilla, Nobi, Rooster, Simon's father, Smolder, Uncle Boaris, Woody Woodeater III, and Yagu in The Lion King's Timon & Pumbaa.[26]

In The Lion King II: Simba's Pride, he was voiced by Jim Cummings.[26]
In The Lion Guard, he was voiced by David Oyelowo.[27]
In Disney's Extreme Skate Adventure, he was voiced by James Horan.[28]
In Kingdom Hearts II, he was voiced by James Horan.[28]
In Simba's Mighty Adventure, he was voiced by Jim Cummings.[26]
In Sorcerers of the Magic Kingdom, he was voiced by James Horan.[28]
In Fantasmic!, he was voiced by Jim Cummings.[26]
In Disney's Animated Storybook: The Lion King, he was voiced by James Avery.[29]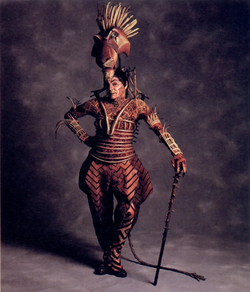 Scar is similar to One-Eye from Monkey Mountain; both are predators with a scar over their left eye who use hyenas to do their bidding.[33]
During early production of Disney's Beauty and the Beast, Gaston was eaten alive by wolves after surviving his fall from the Beast's castle. The idea was scrapped and instead used for Scar's death scene in The Lion King.[34]
According to Rob Minkoff, Scar's name is a "really mean nickname." He believes that Mufasa gave Scar his scar when they were cubs.[38] However, the Lion Guard episode "Battle for the Pride Lands" revealed that Scar got his scar from a cobra.[4]
According to Rob Minkoff, the filmmakers never gave Scar an original name.[38]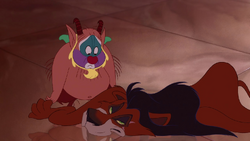 Scar's line, "You have no idea," is a reference to the same Jeremy Irons line from the 1990 film Reversal of Fortune.[40]
In development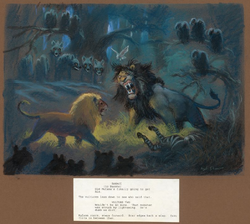 In the January 1990 draft of The Lion King, Scar suffered from a fear of lightning.[44]
In a 1991 draft of The Lion King, Scar lured Nala's brother, Mheetu, into a stampede. Simba attempted to save Mheetu, only for Mufasa to save both young lions.[35]
In a 1991 draft of The Lion King, Scar attacked and killed Mufasa while he was on a solo patrol. With Mufasa dead, Scar became the king and agreed that Simba would assume the throne once he was old enough. However, when the time came, Scar denounced Simba as unfit to rule.[35]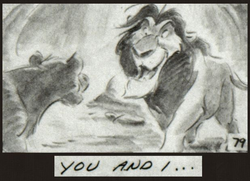 In the 1992 draft of The Lion King, Scar asked Nala to be his queen, but she refused. Consequently, Scar banished her from the Pride Lands.[46] This scene was eventually added to the stage musical version of The Lion King.[32]
In the 1992 draft of The Lion King, Scar sang a reprise of "Be Prepared", during which he introduced the hyenas as his executive staff.[46]
An early version of The Lion King involved Scar raising Simba after Mufasa's death. Though Scar tried to kill Simba after the stampede, the lionesses arrived and believed that he had saved the cub's life. Thus, Scar was forced to accept the narrative and raise Simba himself.[48]
An alternate ending of The Lion King had Scar say, "Good night, sweet prince," to Simba before lunging at him. However, Simba flipped Scar away, and Scar barely caught on to the edge of Pride Rock. From his prone position, Scar begged Simba for mercy, and Simba started to acquiesce, only for Scar to throw him off Pride Rock. Scar then laughed maniacally as he was engulfed in flame. The line was meant to be a nod to Hamlet, the Shakespearean play on which The Lion King was based.[48]
According to concept artwork, Scar originally had his own special territory called "Scar-land."[49]
The animators were so impressed with Jeremy Irons' performance that they worked Irons' features into Scar's face.[51]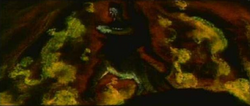 During early production of The Lion King II: Simba's Pride, Scar was the mate of Zira, and the father of Kovu (then named "Nunka").[52] According to director Darrell Rooney, this idea was scrapped due to the incestuous undertones Kovu's romance with Kiara would have had. Thus, Zira's relationship with Scar was purposefully obscured to make her "just a follower," and Kovu was written to be Scar's protégé instead.[53]
In a deleted scene from The Lion King II: Simba's Pride, Zira states that Scar's dying wish was for the Outsiders to train Kovu to become king. This suggests that the hyenas did not eat Scar.[54]
During early production of The Lion King 1½, Timon and Pumbaa were supposed to meet Scar. While searching for Mufasa, they encountered Scar and the hyenas, who had just finished singing "Be Prepared". Timon noted that Scar was not Mufasa, and Scar wondered why he must always be reminded of this.[55]
References
↑ 1.00 1.01 1.02 1.03 1.04 1.05 1.06 1.07 1.08 1.09 1.10 1.11 1.12 Revealed in Disney's The Lion King (1994). Written by Irene Mecchi, Jonathan Roberts, and Linda Woolverton, and directed by Roger Allers and Rob Minkoff. Distributed by Buena Vista Pictures Distribution, Inc.
↑ 2.0 2.1 2.2 Revealed in Disney's The Lion Guard: Return of the Roar (2015). Written by Ford Riley, and directed by Howy Parkins. Distributed by Buena Vista Home Entertainment, Inc.
↑ 3.0 3.1 3.2 Revealed in "Lions of the Outlands" from Disney Junior's The Lion Guard. No. 20, Season 1. Written by Kevin Hopps, John Loy, and Ford Riley, and directed by Howy Parkins. Originally aired November 11, 2016.
↑ 4.0 4.1 4.2 4.3 4.4 4.5 4.6 4.7 Revealed in "Battle for the Pride Lands" from Disney Junior's The Lion Guard. No. 1, Season 3. Written by Ford Riley and directed by Howy Parkins. Originally aired August 3, 2019.
↑ 5.0 5.1 5.2 5.3 5.4 5.5 Revealed in Disney's The Lion King II: Simba's Pride (1998). Written by Flip Kobler and Cindy Marcus, and directed by Rob LaDuca and Darrell Rooney. Distributed by Buena Vista Home Entertainment, Inc.
↑ Revealed in "Never Roar Again" from Disney Junior's The Lion Guard. No. 21, Season 1. Written by Jack Monaco and directed by Howy Parkins. Originally aired November 19, 2016.
↑ 7.0 7.1 Revealed in "The Lion Guard: The Rise of Scar" from Disney Junior's The Lion Guard. No. 5, Season 2. Written by Ford Riley. Originally aired July 29, 2017.
↑ 8.0 8.1 Revealed in "Let Sleeping Crocs Lie" from Disney Junior's The Lion Guard. No. 6, Season 2. Written by Elise Allen and directed by Howy Parkins. Originally aired August 11, 2017.
↑ Revealed in "Swept Away" from Disney Junior's The Lion Guard. No. 7, Season 2. Written by Jack Monaco and directed by Tom Derosier. Originally aired September 15, 2017.
↑ Revealed in "Rescue in the Outlands" from Disney Junior's The Lion Guard. No. 9, Season 2. Written by Elise Allen and directed by Tom Derosier and Howy Parkins. Originally aired September 29, 2017.
↑ Revealed in "The Bite of Kenge" from Disney Junior's The Lion Guard. No. 11, Season 2. Written by Krista Tucker and directed by Howy Parkins. Originally aired November 3, 2017.
↑ Revealed in "The Morning Report" from Disney Junior's The Lion Guard. No. 13, Season 2. Written by Jack Monaco and directed by Tom Derosier. Originally aired January 8, 2018.
↑ Revealed in "Divide and Conquer" from Disney Junior's The Lion Guard. No. 16, Season 2. Written by John Loy and directed by Tom Derosier. Originally aired January 11, 2018.
↑ Revealed in "The Scorpion's Sting" from Disney Junior's The Lion Guard. No. 17, Season 2. Written by Krista Tucker and directed by Tom Derosier. Originally aired April 2, 2018.
↑ Revealed in "The Kilio Valley Fire" from Disney Junior's The Lion Guard. No. 19, Season 2. Written by Elise Allen and directed by Howy Parkins. Originally aired April 4, 2018.
↑ Revealed in "Undercover Kinyonga" from Disney Junior's The Lion Guard. No. 20, Season 2. Written by Don Gillies and directed by Howy Parkins. Originally aired April 5, 2018.
↑ 17.0 17.1 Revealed in "The Hyena Resistance" from Disney Junior's The Lion Guard. No. 23, Season 2. Written by Kendall Michele Haney and directed by Tom De Rosier. Originally aired September 6, 2018.
↑ Revealed in "The Underground Adventure" from Disney Junior's The Lion Guard. No. 24, Season 2. Written by Elise Allen and directed by Howy Parkins. Originally aired September 7, 2018.
↑ Revealed in "Beshte and the Beast" from Disney Junior's The Lion Guard. No. 25, Season 2. Written by Elise Allen and directed by Tom De Rosier. Originally aired November 12, 2018.
↑ Revealed in "Pride Landers Unite!" from Disney Junior's The Lion Guard. No. 26, Season 2. Written by Jack Monaco and directed by Howy Parkins. Originally aired January 21, 2019.
↑ Revealed in "The Queen's Visit" from Disney Junior's The Lion Guard. No. 27, Season 2. Written by Don Gillies and directed by Tom De Rosier. Originally aired February 18, 2019.
↑ Revealed in "The Fall of Mizimu Grove" from Disney Junior's The Lion Guard. No. 28, Season 2. Written by Kendall Michele Haney and directed by Howy Parkins. Originally aired March 25, 2019.
↑ 23.0 23.1 Revealed in "Friends to the End" from Disney Junior's The Lion Guard. No. 10, Season 3. Written by Alison Taylor and directed by Tom De Rosier and Howy Parkins. Originally aired October 5, 2019.
↑ Revealed in "Long Live the Queen" from Disney Junior's The Lion Guard. No. 15, Season 3. Written by Kendall Michele Haney and directed by Howy Parkins. Originally aired October 20, 2019.
↑ Jeremy Irons. IMDb. IMDb.com, Inc. Retrieved on September 1, 2021.
↑ David Oyelowo. IMDb. IMDb.com, Inc. Retrieved on September 1, 2021.
↑ 28.0 28.1 28.2 James Horan. IMDb. IMDb.com, Inc. Retrieved on September 1, 2021.
↑ James Avery. IMDb. IMDb.com, Inc. Retrieved on September 18, 2021.
↑ Andreas Deja. IMDb. IMDb.com, Inc. Retrieved on September 28, 2020.
↑ John Vickery. Playbill. Retrieved on September 1, 2021.
↑ 32.0 32.1 Revealed in the stage musical version of The Lion King
↑ Revealed in Monkey Mountain from The Lion King: A Nature Fun and Learn Series. Issues 18–20 (1995–1997).
↑ Anna Klassen (November 13, 2013). 15 Things You Didn't Know About 'Beauty and the Beast'. Bustle. Bustle Digital Group. Retrieved on March 25, 2020.
↑ Lion King director clears up online rumour about Mufasa and Scar not being brothers. vt. Archived from the original on October 24, 2020. Retrieved on July 15, 2021.
↑ Revealed in "Paintings and Predictions" from Disney Junior's The Lion Guard. No. 11, Season 1. Written by Elise Allen and Kevin Hopps, and directed by Howy Parkins. Originally aired April 1, 2016.
↑ 38.0 38.1 Lion King Director Reacts to Honest Trailer! - Honest Reactions w/ Rob Minkoff on the Screen Junkies YouTube channel
↑ 40.0 40.1 The Lion King (1994) – Connections. IMDb. Amazon. Retrieved on August 3, 2021.
↑ Vinitsky, Wendy Baker. The Brightest Star (September 1994). ISBN: 1557236186.
↑ Simmons, Alex. A Tale of Two Brothers (1994). ISBN: 0717283488.
↑ David Chandler (September 1, 2018). Creating The Lion King: Story development, authorship and accreditation in the Disney Renaissance. Ingenta Connect. Retrieved on August 15, 2021.
↑ 45.0 45.1 45.2 Revealed in Disney's King of the Beasts (1990). Written by J.T. Allen and Ronald Bass.
↑ 46.0 46.1 Revealed in Disney's King of the Jungle (1992).
↑ Kevin Fallon (June 24, 2014). 'The Lion King' Turns 20: Every Crazy, Weird Fact About the Disney Classic. The Daily Beast. Retrieved on September 3, 2021.
↑ 48.0 48.1 The original ending of the Lion King was too dark for the remake. Yahoo!. Verizon Media. Retrieved on September 3, 2021.
↑ The Lion King: 15 Things You Never Knew About Scar. Screen Rant. Retrieved on September 3, 2021.
↑ The Lion King (1994) Trivia. IMDb. IMDb.com, Inc. Retrieved on September 28, 2020.
↑ Mike Fleming (December 4, 1996). 'Blackout' awakens at Miramax; Hammer hit. Variety. Retrieved on September 3, 2021.
↑ 54.0 54.1 Lion King- Cut scene 3- Nuka and Vitani's News on the Lisa Williams YouTube channel