Porcupine brothers
Physical information
Gender

Male

Species
Fur color

Brown, gray, and pink

Eye color

Brown and black

Biographical information
Status

Living

Residence
Affiliations
The porcupine brothers are a pair of male porcupines.
Biography
Backstory
The porcupine brothers lived in the Pride Lands during Simba's reign.
When floodwaters devastate the Pride Lands, the porcupine brothers find their home, a hollowed-out log, destroyed. The Lion Guard comes to the rescue, overturning their home and restoring it to its former glory. As the brothers crawl their way back into the log, Fuli comments that they have to do this every time a storm comes, and Beshte explains that this is the porcupines' home. As the Lion Guard walks away, the brothers can be heard arguing over their quills being uncomfortable in the cramped space.
The porcupine brothers listen to Rafiki tell a story about the fabled Zimwi monster. They react with worry when Rafiki mentions that the Zimwi only emerges during a full moon and Bunga points out that there is a full moon that very night. They are similarly spooked when Beshte makes strange noises while practicing for his audition with the Bellow Fellows.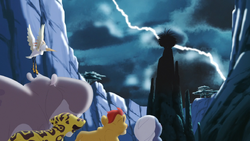 After the story, the Lion Guard and their friends sleep next to one another at Hakuna Matata Falls, while the porcupine brothers set off on their own. This leads to a series of misunderstandings in which various animals, including the Lion Guard, mistake the brothers for the Zimwi.
Eventually, the Lion Guard confronts the brothers, only to discover their true identity. The brothers then explain that they had huddled together due to their fright of the Zimwi and that the termite mound had made them appear much taller than they actually were.
The porcupine brothers participate in Bunga's "The Twelve Ways of Christmas" celebration.
Physical appearance
The porcupine brothers are brown-furred with white-tipped quills. One has large black eyes and a red nose, while the other has large brown eyes and a black nose.
Trivia
References
↑ Cam Clarke. IMDb. IMDb.com, Inc. Retrieved on September 26, 2020.
↑ Phil LaMarr. IMDb. IMDb.com, Inc. Retrieved on September 26, 2020.
Community content is available under
CC-BY-SA
unless otherwise noted.