Janna

Physical information
Gender

Female

Species
Hair color

Black, brown, and cream

Eye color

Green

Distinguishing features

 •  Painted mark on forehead
 •  Spots on cheeks, legs, and shoulders

Biographical information
Also known as
Status

Deceased

Residence
Affiliations
Titles

 •  Great Lion of the Past
 •  Guardian of the Tree of Life
 •  Queen of the Tree of Life

Relationship information
Family
Allies

Anga, Baliyo, Beshte, Bunga, Fuli, Kion, Makini, Mama Binturong, Nirmala, Rafiki, Rani, Surak
"

We all have our scars, Rani. Sisi ni sawa.
―Janna

"
Janna was a female lion. She was the lead healer, guardian, and queen of the Tree of Life who preceded Rani. She was the mother of Surak, and the grandmother of Baliyo and Rani.
When Kion sought the Tree of Life for healing, he inadvertently offended Rani, who forbid him entry. After the incident, Janna advised Rani to reconsider her decision and allow Kion to heal at the Tree of Life. Because of Janna's suggestion, Rani agreed, and Janna allowed Kion and his teammates to remain at the Tree of Life for the duration of his healing process.
Later, Janna weakened due to her old age and called her family to her deathbed. She passed on her crown to Rani and informed her that she was ready to lead the Tree of Life. Afterward, Janna died, though her spirit lived on in the form of a Great Lion of the Past.
Biography
Early life
Janna lived at the Tree of Life, where she reigned as its queen. At some point in her life, she took on a mate and gave birth to two cubs, including Surak.[1] Janna had a Royal Mjuzi who passed away.[2] During her queenship, Janna mentored her granddaughter, Rani, who was next in line for the throne due to the passing of her parents, Sãhasí and Ãnanda.[1]
When Makini was young, she visited the Tree of Life and presented herself to Rafiki, who accepted her as his apprentice. However, Janna predicted that Makini would eventually choose to serve the Tree of Life instead.[3] One day, Janna encountered and healed an injured lone traveler named Azaad.[4]
Meeting the Lion Guard
"

The Roar. It has finally returned.
―Janna

"
When the Night Pride struggled to defend the Tree of Life from the Lion Guard, Rani convened with Janna. After learning that Kion possessed the Roar of the Elders, Janna permitted the Lion Guard entry.[1]
The Lion Guard arrived at the Tree of Life, where they met Janna. Kion explained that he and his friend, Ono, had come for healing. Nirmala, a gifted healer, examined them and came to the conclusion that Kion's injuries would be far more difficult to heal than Ono's. Janna ordered her granddaughter, Rani, to give the Lion Guard a tour of the kingdom while Kion began his healing journey with Nirmala. Janna then offered to complete Makini's Royal Mjuzi training, to which Makini delightfully accepted.
Janna taught Makini that Askari, the first leader of the Lion Guard, had discovered the Roar of the Elders at the Tree of Life. She then gifted Makini with a new bakora staff, the one that had belonged to Janna's last Royal Mjuzi.
Just then, the Lion Guard and the Night Pride arrived, and Rani accused Kion of letting in Makucha and his army of predators. Kion apologized and offered his services in defeating Makucha's army, but Janna advised Kion to heal before he helped the Night Pride.[2]
Mama Binturong's plot
"

Welcome, traveler. I am Janna, queen of the Tree of Life. What brings you here?
―Janna to Mama Binturong

"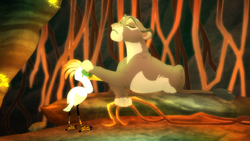 Mama Binturong tricked the Night Pride by pretending to be an animal in need who was being plagued by Makucha and his army. The pride brought Mama Binturong to Janna, who accepted her for healing. Not wanting to give herself away, Mama Binturong introduced herself as a "ginterbong." She asked for a tour of the territory, but Janna explained that the Night Pride rested during the daytime.
Afterward, Janna channeled the Tree of Life's powers to heal Ono's eyesight. Ono was delighted, but Janna warned him that his vision would never be as good as it once was.
Meanwhile, Mama Binturong returned to her allies and instructed them to kill Janna while she distracted the Night Pride. However, the plot was foiled, as Ono saw through Mama Binturong's lies.[5]
Death
"

Rani. You have everything you need to be queen. And you won't be alone. The Night Pride will stand beside you. And Makini, your Royal Mjuzi, will help guide you.
―Janna

"
Janna called the Night Pride and Kion to her when she felt her time coming. She told her grandson Baliyo to give his sister Rani strength, entrusted Nirmala with the Tree of Life's healing powers, told her son Surak to lend Rani his wisdom, and encouraged Kion to remain at the Tree of Life. Finally, she told Rani that she was ready to become queen. Janna then died peacefully.
After Janna's death, Makini announced her passing to the residents of the Tree of Life. Her funeral was held at the Willows. At the funeral, Rani told Kion about her grandmother's wisdom and expressed a desire to be just as good a queen. After Rani's coronation, she spoke to the night sky, telling Janna that she was ready.[6]
Legacy
"

Queen Janna isn't the only one to know just what to say. You're a lot like her.
―Kion to Rani

"
After another skirmish with Makucha's army, Fuli began to doubt Nirmala's healing skills, but Rani came to her defense, claiming that Janna had trusted Nirmala to become the Tree of Life's healer. At the Lake of Reflection, Kion reflected upon himself as his final step in the healing process. Rani approached, and they discussed whether Kion needed the Roar to lead the Lion Guard. Rani informed him that Janna had mentioned that the Roar could remain at the Tree of Life even if Kion left it behind.[7]
When Mama Binturong and her allies were finally defeated, Rani affectionately complimented Kion and commented that she understood why Janna had been happy for the Roar to return to the Tree of Life.[8] Later, Azaad arrived and mourned Janna.[4]
When Kion returned to Pride Rock and explained why Makini was not with them, Rafiki cheered for Janna, who had been right about Makini's future.[3]
Post-mortem
When Kion retired as the leader of the Lion Guard, he and his friends returned to the Tree of Life and were inducted into the Night Pride. Kion wed Rani, and Janna's spirit proudly watched the wedding.[3]
Physical appearance
Janna was a moderately sized lioness. She had brown fur, with a cream muzzle, paws, and underbelly. She had several dark spots on her pelt, dark ear rims, pink inner ears, and green eyes. She wore a blue painted marking on her forehead.[1]
Personality and traits
"

My grandmother was so wise. She always knew the right thing to do, the right animals to welcome to the Tree of Life.
―Rani

"
Janna carried herself with nobility. She was quiet and soft-spoken like her son, Surak. She was a wise ruler who cared for her family and subjects, and was loved by them in return.[1] She was not one to judge simply by appearance or species, as she welcomed various animals who were in need to the Tree of Life.[6]
Appearances
Trivia
References