Dhahabu Grove


Physical Information
Type

Grove

Kingdom
Flora

Grass
Shrubs
Trees

Fauna
Societal Information
Residents
Affiliations
| | | |
| --- | --- | --- |
| " | Welcome to Dhahabu Grove, the happiest place in the Back Lands. | " |
Dhahabu Grove is a location in the Back Lands. It is the home of Dhahabu and her herd.
Information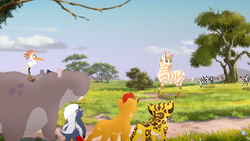 When a drought strikes the Pride Lands, the Lion Guard ventures to Dhahabu Grove to request permission from Dhahabu for the Pride Landers to use her watering hole. Dhahabu agrees on the condition that the Guard brings her herd a Tamboa plant. However, when the Guard fulfills their side of the deal, Dhahabu calls off the arrangement, and Ono discovers that she is simply hiding a dried-up watering hole.
Kion offers to help solve Dhahabu's problem in exchange for the Pride Landers' access to her watering hole, to which she agrees. The team investigates the problem alongside Dhahabu and discovers that a rock slide is blocking the river. The dam is broken, and water rushes into the pool once more.
With Dhahabu Grove restored to its former glory, Dhahabu invites the Pride Landers to enjoy her watering hole alongside her herd.
Dhahabu discusses a water treaty with Simba concerning Dhahabu Grove.
Gallery
Click here to view the rest of the gallery.