Buzz


Physical Attributes
Gender

Male

Species
Biographical Information
Also known as

Fearless Buzz (by Timon's colony)

Status

Deceased

Affiliations
"

Sing the ballad of Fearless Buzz, greatest meerkat there ever was...
―Meerkats sing "Old Fearless Buzz"

"
Buzz (called Old Fearless Buzz) is a male meerkat. He is a fearless meerkat who attempted to take on the hyenas, but died in the attempt.
Biography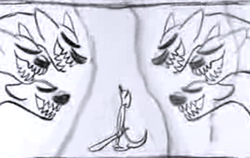 "

Said no meerkat should have to hide, wiped his paws off and went outside, fought a fearsome hyena back, even till he was blue and black, but forgot hyenas roam in a pack...
―Meerkats sing "Old Fearless Buzz"

"
In early drafts of the film, Buzz appears during "Digga Tunnah" in a series of cave paintings. As the meerkats work, they sing "Old Fearless Buzz" about a renowned hero named Buzz, who had gotten fed up with being bullied by the hyenas and decided to put a stop to their antics. He'd left the safety of the colony and fought a hyena. However, the rest of the pack had arrived and finished him off, rendering his brave stunt futile.
Personality and traits
"

Meerkat brave equals meerkat snack!
―Meerkats sing "Old Fearless Buzz"

"
Buzz is renowned for his bravery in facing the hyenas. However, his recklessness ultimately led to his early demise.
Trivia
Media
References