Binti


Physical Attributes
Gender

Female

Species
Feather color

Purple

Eye color

Black

Biographical Information
Name meaning

Daughter[1]

Status

Living

Residence
Affiliations
Familial Information
Family

Zazu (mate)
Binti is a female hornbill. She is Zazu's mate.
Biography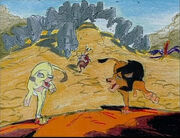 Binti was supposed to appear in Simba's Pride alongside Zazu as his girlfriend and later mate,[2] but her character didn't get too far past the character design stage, despite her having twenty different designs (presumably not available on the web) for her all drawn up. One, however, seems to have survived, in which she is running from a rhino stampede alongside Kovu and Kiara.
Personality and traits
"

Leeves brings voice to a flirtatious bird named Binti in the upcoming sequel to The Lion King. She obviously loves creating someone completely different.
―Binti's intended personality

"
According to the above quote, Binti was supposed to a very flirtatious bird.
Trivia
Zazu has a girlfriend in the comic Zazu the Heartbreaker, which would've made Binti his second love interest.
Binti would have been the first female hornbill to appear on-screen.
An archived article in the San Antonio Express reports that actress Jane Leeves was originally going to voice Binti in The Lion King II: Simba's Pride.[3]
References