Aaron Blaise
Biographical information
Full name

Aaron Blaise

Born

February 17, 1968

Birthplace

Burlington, Vermont

Career information
Occupation

• Animator
• Director

Years

1990–present

Website
Work
"

The biggest challenge for me on that film was just getting the locomotion right. Four-legged walks, trots, and runs can be tricky, especially in the transition from one to another. Getting something to look natural while still getting the acting across can be difficult.
―Blaise on animating The Lion King[1]

"
Aaron Blaise is an American animator and director. He served as the supervising animator for young Nala in The Lion King.
Biography
Early life
Blaise was born in Burlington, Vermont, but grew up in Florida, where he obtained a love for animals and nature. His hobbies included drawing, painting, photographing, and tracking wildlife in his area. He graduated from Barron Collier High School in 1986 and went on to earn his certificate in illustration from Ringling College of Art and Design in 1989.
Career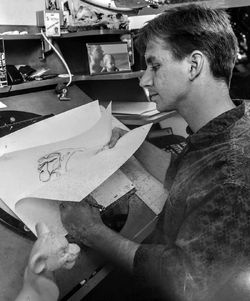 Blaise was hired by the Walt Disney Company and served as an animator for 21 years. The first film he worked on was Roller Coaster Rabbit, for which he served as an assistant animator. His most notable works include Beauty and the Beast, Aladdin, The Lion King, Pocahontas, and Mulan. Of these films, Blaise enjoyed working on Beauty and the Beast the most, as it was his first major breakthrough as an animator and allowed him to work closely with his mentor, fellow animator Glen Keane.
For The Lion King, Blaise worked as the supervising animator for young Nala. He spent much of his time sketching and studying the lions that were brought into the studio for the animators, in particular their locomotion.
In 2003, Blaise worked as co-director of the Disney animated feature film Brother Bear, for which he earned an Oscar nomination for Best Animated Feature Film.
On March 8, 2010, Blaise left Disney to pursue an opportunity in Florida to launch a new animation studio called Tradition Studios. For roughly two and a half years, the studio worked on developing several feature films, including a film titled The Legend of Tembo, for which Blaise planned to serve as director. However, the company went bankrupt in 2012 and the film was cancelled.
Personal life
Blaise has a younger brother named Travis. He is the husband of the late Karen, and the father of two children, a son named Dustin and a daughter named Austin.
Trivia
Aaron Blaise and his brother Travis both took part in animating The Lion King. While Aaron supervised animation for young Nala, Travis served as an assistant animator for Zazu.[2][3]
External links
References
Community content is available under
CC-BY-SA
unless otherwise noted.